Different types of drop wires.
Drop wires are a vital and important part of the weaving process. They make it possible to easy detect yarn rupture.
Our dropwires are made from hardened high grade steel. To ensure high resistance against wear and improved sliding qualities the dropwires are zinc or nickel plated. Every single drop wire goes thorough an inspection to make sure that the drop wire's edges are well rounded and its surface is smoothly dressed cut.
Length:80mm to 268mm
Width: 7mm to 15mm
Thickness: 0,2mm to 2mm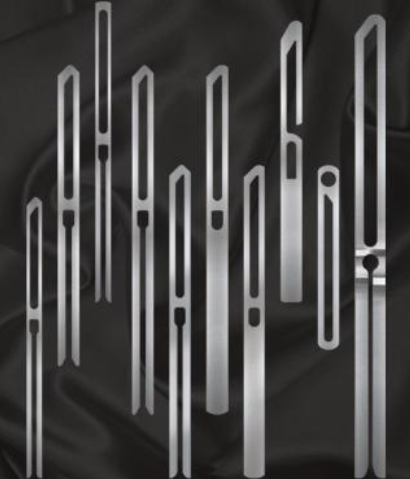 Suitable for all types of automatic drawing in machines.
MECHANICAL
MO=MECHANICAL OPEN
MC= MECHNICAL CLOSE
ELECTRICAL
EO = ELECTRICAL OPEN
EC = ELECTRICAL CLOSE
Drop wire weight

Length
mm

Width
mm

Thickness
mm

weight
gm

MC/EC

125

11

0.2

1.7

0.3

2.5

0.4

3.3

MO/EO

145

11

0.2

1.7

0.3

2.5

0.4

3.3

MC/EC

145

11

0.2

1.9

0.3

2.9

0.4

3.8

0.5

4.8

MO/EO

165

11

0.2

1.9

0.3

2.9

0.4

3.8

0.5

4.8

MC/EC

165

11

0.2

2.2

0.3

3.3

0.4

4.4

0.5

5.5

MO/EO

180

11

0.2

2.2

0.3

3.0

0.4

4.4

0.5

5.5
Weight indication of the drop wires:
Weight of the drop wire
gm

Tex

Material in the Warp

Silk

Metric
Count
Nm

English
Count
NeB

Filament
Td

0 - 1

0 - 9

0 - 110

0 - 65

0 - 80

1 - 1 , 5

9 - 14

110 - 70

65 - 42

80 - 125

1 , 5 - 2

14 - 20

70 - 50

42 - 30

128 - 180

2 - 2 , 5

20 - 25

50 - 40

30 - 24

180 - 225

2 , 5 - 3

25 - 32

40 - 30

24 - 18

225 - 290

3 - 4

32 - 58

30 - 17

18 - 10

290 - 520

4 - 6

58 - 96

17 - 10

10 - 8

520 - 860