Jacquard Selection Box For Jacquards With Punching Cards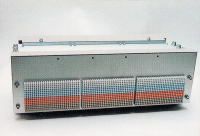 System to make from your old jacquard with card an electronic jacquard. The jacquard card cylinder will be exchanged by an electronic selectionbox.
No more expensive punching cards.
Easy to change designs.
The selectionbox works with a normal windows computer.
All designs are stored in the computer and easy available.
No maintenance.
Piezo elements instead of electromagnetic solenoid.
No heat production and low power consumption.
Enable speed-up of weaving.
Suitable to weave all kinds of textile. Can be installed on low to high speed: single-, double- and three-position jacquards, etc.
selection boxes are available for almost all types of jacquard's
vincenzi
verdol : staubli, verdol, schleicher,...
grosse
bobbio
yamada
nishijin
axminster
dracup
coarse pitch
Rachel knitting
... and in any format 440, 448, 600, 880, 896, 900, 1200, 1300, 1320, 1344, 1760
THE ADVANTAGES OF THIS ELECTRONIC SELECTION BOX.
Selection works by means of piezo elements that almost need no power and therefor produce no heat. In contrast to solenoids the electric power consumption can be reduced to 1/10. Perfect to use in hot climate, no need to use a cooling fan.
A high speed without errors guaranteed.No doubt this selection box will make your productivity rise.
Long life and almost no deterioration in piezo performance. This thanks to the new technology which replaces solenoids.
The installation of this system will be done by one of our colleagues. When you want you can also do it yourself we will give instructions. Software to convert the data is included.
---
We also sell jacquard processing software for 2 and 3 position jacquard. To sent jacquard fabrics to your weavingloom. This software is very easy to use.