Heavy Weaving Machinery For Technical Textile.
We Build Heavy technical textile Weaving Machinery To Weave All Kind Of Technical Textile.
Technical Textile Is Only A General Term To Describe A Broad Range Of Textiles Made For Special Applications. We manufacture technical textile weaving machines for:
3 dimentional, multi layer weaving for multi layer fabrics. Also called spacer fabric or distance fabric.
3 dimentional, thin, complex, curved geometries.
longpile like artificial grass
Normal weaving on normal looms with technical fiber.
For almost any type of technical textile we can manufacture a weaving loom.
Various Products Can Be Woven On Our technical textile Weaving Machinery For Almost Every Industry. Here Are Some Examples Of Products That Our Machines Can Weave:
• Lifting textile: used in process of lifting heavy goods , strongly woven with high tenacity yarns.
• Packaging textile: big bags, sacks, protecting cover, ...
• Mobile/transportation textile used in cars, ships, trains, ...
• Industrial textile for: mechanical engineering, chemical industry, ...
• Building textile for the building industry like: facade covers, ...
• Geo-textile for the construction/building sector. Ground reinforcement.
• Enviromental/agricultural textile for moving compost, weed control, water distribution, protection, ...
• Protective textile like: heavy duty fabric.
• Heavy painting canvas in linen.
• Many more
Weaving on a convential carpet weaving machine with technical fabric is also possible to be: flame-retardant, antistatic, water repellent, oil-repellent, heat-resistant, non-slip, windproof, anti-bacterial, chemical resistant, heat regulating, biodegradable, uv-resistant, insect repellent, anti soiling, lightweight, durable, easy to clean, ...
---
WEAVING MACHINE FOR ARTIFICIAL GRASS.
---
WEAVING MACHINE WITH DOBBY SHAFTMOTION FOR WEAVING 3 DIMENTIONAL TECHNICAL TEXTILE.
---
WEAVING MACHINE FOR SPACER FABRIC. 3 DIMENTIONAL MULTILAYER TECHNICAL TEXTILE.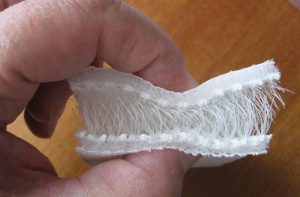 ---
WEAVING ON A NORMAL WEAVING MACHINE WITH TECHNICAL FIBER.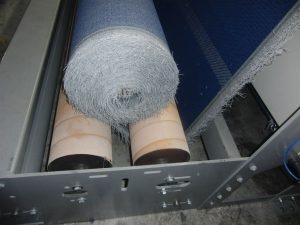 ---
WIRE MESH WEAVING MACHINE. Wire mesh can be woven with this weaving machine