Design And Manufacturing Of Custom Conjugate Cams
We design and manufacture conjugate cams for all kind of machinery and applications. We build the conjugate cams in any configuration, material or size you want. We have many experience with manufacturing this type of cams. They are often used in our weaving machinery. Let us know the requirements and our engineer will do the rest.
WHY CONJUGATE CAMS?
Very high accuracy
High operating speed
WHAT ARE CONJUGATE CAMS?
Conjugate cams also called dual cams are a double disc cam that are bolted together. Because of the 2 rollers always touching the double disc cam the follower makes less noise and has better control at high speed.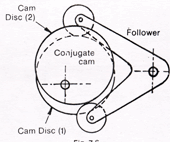 Here you can see a video how the principle of dual cams works.
All type of excenters for any type of weaving can be made.